Eartha Kitt headlines a show in Montreal in August 1986 after belittling Québec pop star Marjo at a press conference.
Guest post by Richard Burnett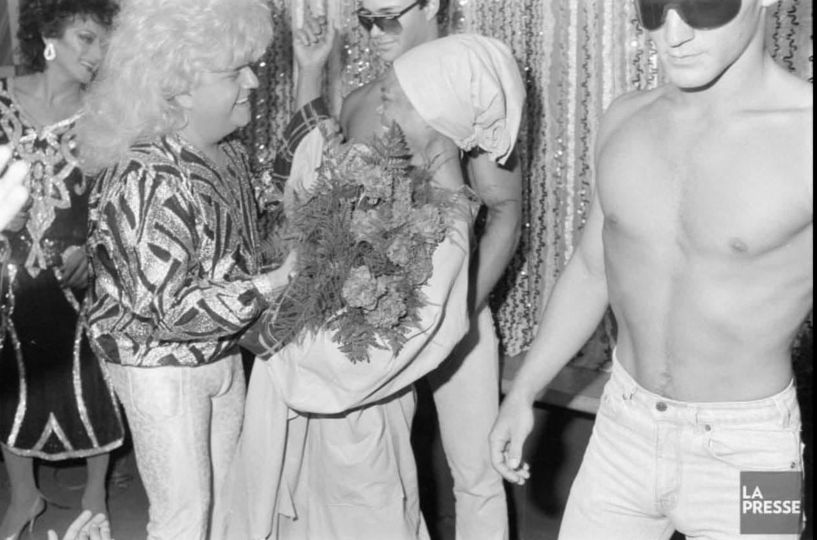 Classic photo of diva and gay icon Eartha Kitt being greeted at the Taverne Bellevue, a gay establishment that was located at 151 Rue Sainte-Catherine East (corner De Bullion), on July 31, 1986, just days before she famously headlined Théâtre St-Denis with Québec pop star Marjo whom Kitt had belittled at a Montreal press conference. The controversy sold more tickets, and Eartha and Marjo would go on to sing "God Bless the Child" together onstage like seasoned pros.
Marjo told Québec Rock magazine (December 1986 issue), "Ce spectacle c'est terminé comme je le voulais. Je ne suis pas rancunière, j'ai pris Eartha Kitt dans mes bras pis je l'aimais. Elle m'a fait du tort, mais je ne lui en ai pas voulu."
An out-of-wedlock child born in 1927 in South Carolina whose African-American and Cherokee sharecropper mother was raped by the white son of a plantation owner, Eartha picked cotton before moving to Harlem where at age 16, she auditioned for the Katherine Dunham Dance Troupe and won a full scholarship to study ballet. Dunham then chose "Kitty" to tour the USA, Mexico, South America, and Europe with her troupe.
When the Dunham company was in Paris, Kitt in 1950 was offered her first nightclub engagement at Carroll's, whose legendary lesbian owner Fred (former lover of Marlene Dietrich) told the waitresses, "this one must not be touched." Eartha later said Fred was "one of the most beautiful women you ever want to see in your life, always dressed as a man."
Eartha's nightclub act ran 11 months at Carroll's, where a captivated Orson Welles called her "the most exciting woman on earth" and cast her as Helen of Troy in his production of Time Runs in 1951.
By November 1956, Kitt was headlining Sin City-era Montreal's El Morocco nightclub on Rue Lambert-Closse, across the street from the Forum. Twenty-four years later, in 1980, legendary Montreal impresario Doudou Boicel booked Kitt to headline his Rising Sun nightclub (then temporarily relocated in the former Rockhead's Paradise venue). In his later years, Doudou spoke to me about the many jazz and blues legends he had worked with. About Eartha, a vocal advocate of the civil rights movement, Doudou wrote in his memoir, "She saw me as a Black brother and wished to help me in her own way."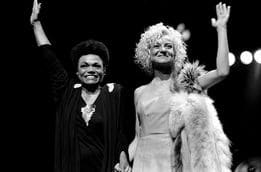 By 1968 Kitt was blacklisted for criticizing the war in Vietnam, but by 1984 she was back on top with her hit "Where Is My Man?" She was celebrated by her huge gay fan base who had never abandoned her, and whom she embraced in return, headlining countless benefits to support HIV/AIDS organizations.
In a 2005 interview with the Windy City Times, Kitt said, 'I happen to have a great appreciation for the gay audiences. When I was in trouble with the government and Lady Bird Johnson (for voicing opposition to the Vietnam War at a White House luncheon), it was the gay guys who kept my name alive because they kept looking for my records and they were imitating me. To them, it was as if Eartha Kitt was always there. I'm very grateful for that. I feel very close to the gay crowd because we know what it feels like to be rejected."
This is why this photo of Eartha being celebrated at the Taverne Bellevue in Montreal is spectacular!
Follow Montreal arts and culture journalist Richard Burnett on Twitter.
Russell Brooks is the author of four suspense thrillers, His fifth JAM RUN, will be released in 2022.