A high-tech thrill ride with Nick Heller.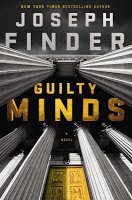 Guilty Minds is a high-tech thrill ride and the third novel in the Nick Heller series by Joseph Finder. Heller, a private investigative operative, is hired by a Supreme Court Justice to disprove a story about another Justice having an affair with a prostitute before a powerful gossip website publishes the story. What's worse is that Heller has less than forty-eight hours to do so. However, after the prostitute is murdered, the investigation is further complicated as Heller unravels an even bigger conspiracy behind the alleged scandal.
As with Finder's previous novels, there's a lot of suspense, well-researched subject and high-tech matter. Nick Heller, in my opinion, is a lot tougher than he was in the previous novels. This may be due to the fact that he's facing off against a group of antagonists with police/military training. Heller's employee, Dorothy, has once again proven how invaluable she is as his tech wiz. Every character was well developed and distinct—even the minor ones such as the wealthy socialite who added some comic relief. And of course, it wouldn't be a Joseph Finder suspense novel unless it had his trademark plot twist near the end.
5 Stars
Russell Brooks is the author of five thrillers. Jam Run, his latest thriller, will be released in 2022. Read the first chapter here.